An exceptional vintage revealing a great terroir
Spring was mild – bud-burst started at the end of March, flowering was early and quite quick with little shatter. Fruit set was often abundant.
Starting in mid-June, there was a very sudden change where several weeks of hot weather ensued with minimum temperatures reaching around 25°C, rising to 35°C in the heat of the day. This prompted fears of sunburn and water stress.
n mid-August, sugar concentrations were already high and it was tempting to harvest quickly. This was true of the whites and rosés but not for the reds which could still benefit significantly in terms of phenolics from a longer hang-time. Our patience was rewarded by the arrival of rainfall at the beginning of September.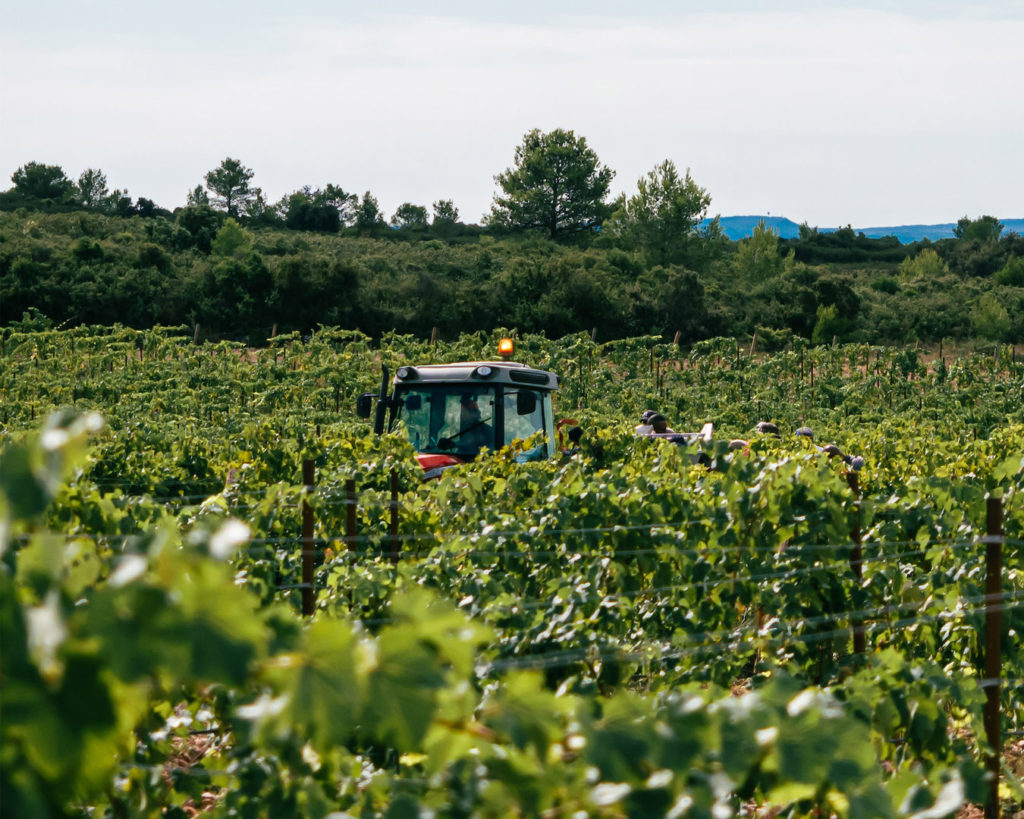 Consequently, harvesting was spread over a month and a half.
Vermentino: from August 16 to 20
White Grenache: from August 31 to September 3
Syrah: from September 5 to 20
Black Grenache: from September 12 to 25
Mourvedre: from October 3rd to 6th
The whites, which are blended from Vermentino and Grenache blanc, combine roundness and freshness and reveal notes of pear and grapefruit.
The rosés are surprisingly lively and have a very fresh, fruity aromatic profile combining citrus and red fruits.
The reds show seductively fine tannins and balance. When you taste all the fruit and finesse, you struggle to believe that the weather in their birth year was so extraordinary.
A late, fresh and delicate vintage
The campaign began with a dry and rather cool winter, then in the last week of March the temperature rose to record levels. These temperatures favoured a rather early vegetation. During the night of 7 to 8 April, a violent frost episode (up to -7° locally) caused significant damage to the Syrahs, fortunately limited to a few plots at Château Gilbert & Gaillard.
The spring and summer that followed remained cool, below seasonal averages, punctuated in July and August by regular storms. The château largely escaped the attacks of oidium and hail that hit the Languedoc vineyards and was in very good health at the beginning of September. It was thus possible to wait calmly for the ripening and to start the harvest at the optimum time.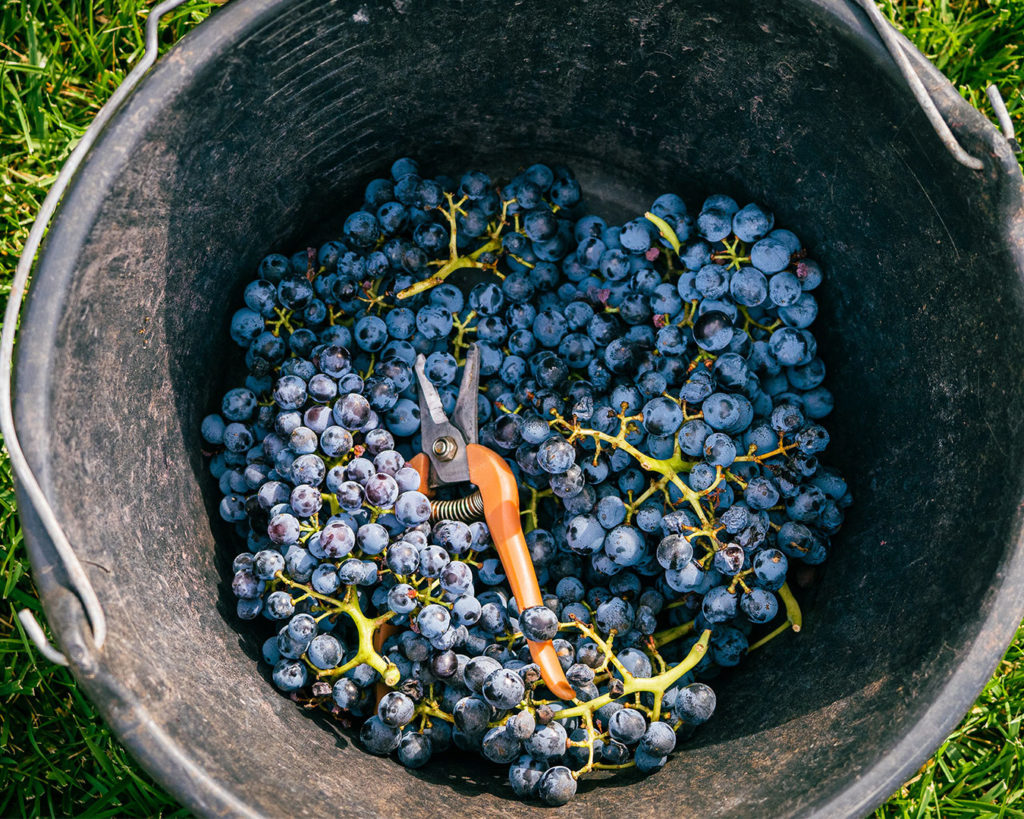 Unlike the previous vintage, the harvest was both late and spread out over time:
White Grenache & Vermentine: 7 September
Syrah: 16 September
Black Grenache: 21 September
Mourvedre: 8 October
The whites and rosés have taut, aromatic profiles and promise much pleasure when drunk, while the reds are seductive with their delicate aromas of fresh fruit and garrigue, their measured power and good acidity, guaranteeing balance and elegance.
Incredible precocity and great elegance
Never in the winegrower's memory has the harvest been as early as in 2020.
The abundant rainfall of the previous autumn was responsible for this, ensuring that the soil was well loaded and a particularly mild winter with a record February.
This was followed by a warm, rainy spring and then a "normal" summer without excesses, which spared the vines from water stress.
Heat and humidity (100 mm of rain between 19 and 22 April, 110 mm from 10 to 12 May) favoured attacks of mildew, which were particularly virulent on the Grenache.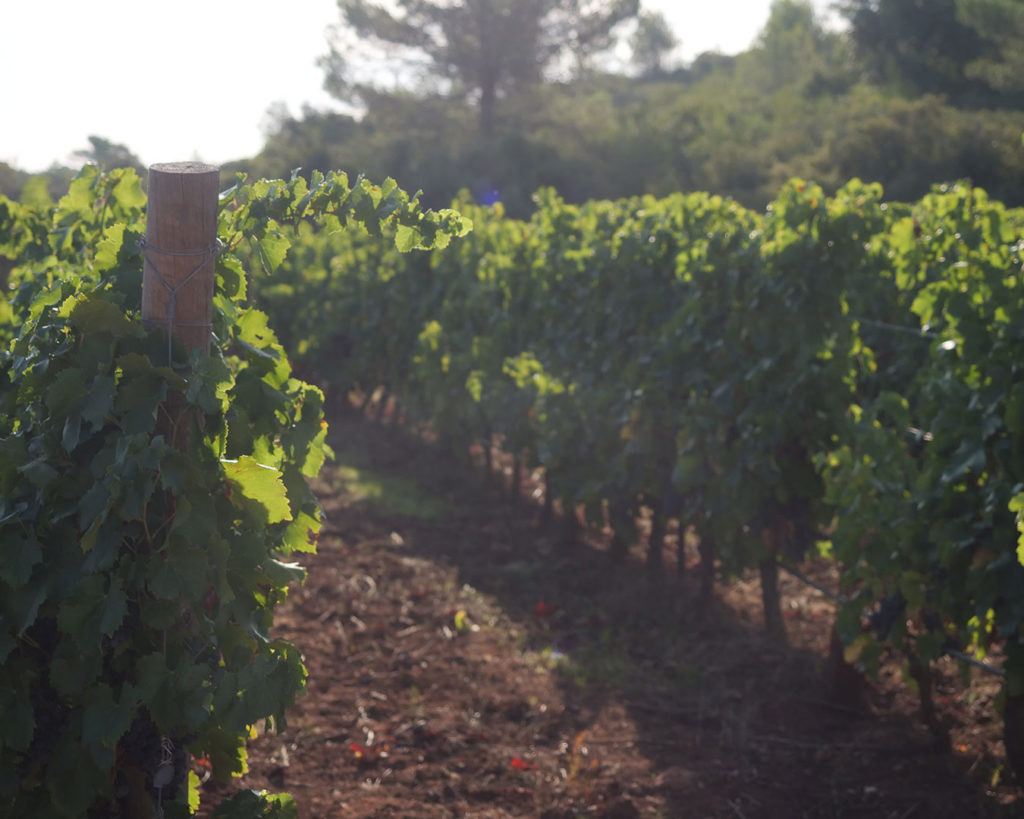 Although ripening usually lasts about three weeks depending on the grape variety, this year it was surprisingly short, forcing us to act quickly and to increase the number of pickers.
White Grenache & Vermentino : 24 August
Syrah : 26 August
Black Grenache: 3 September
Mourvedre: 5 September
Everything was finished by September 8th.
The whites and rosés have generous, ripe profiles, but are also surprisingly well-balanced thanks to a good level of acidity.
The reds are powerful, ripe, remarkably well-balanced, fresh, and display real elegance.
Opulence and freshness, the result of a year full of contrasts
What surprises that year!
Early budburst, the result of a particularly mild winter. A cool spring with plenty of rain disrupted the flowering. A rollercoaster summer with 3 heatwaves, including the famous "coup de chaud" on 28 June when the mercury approached 45°C.
A two-stage harvest, interrupted by a generous spell of rain on 18 September.
Nothing was spared.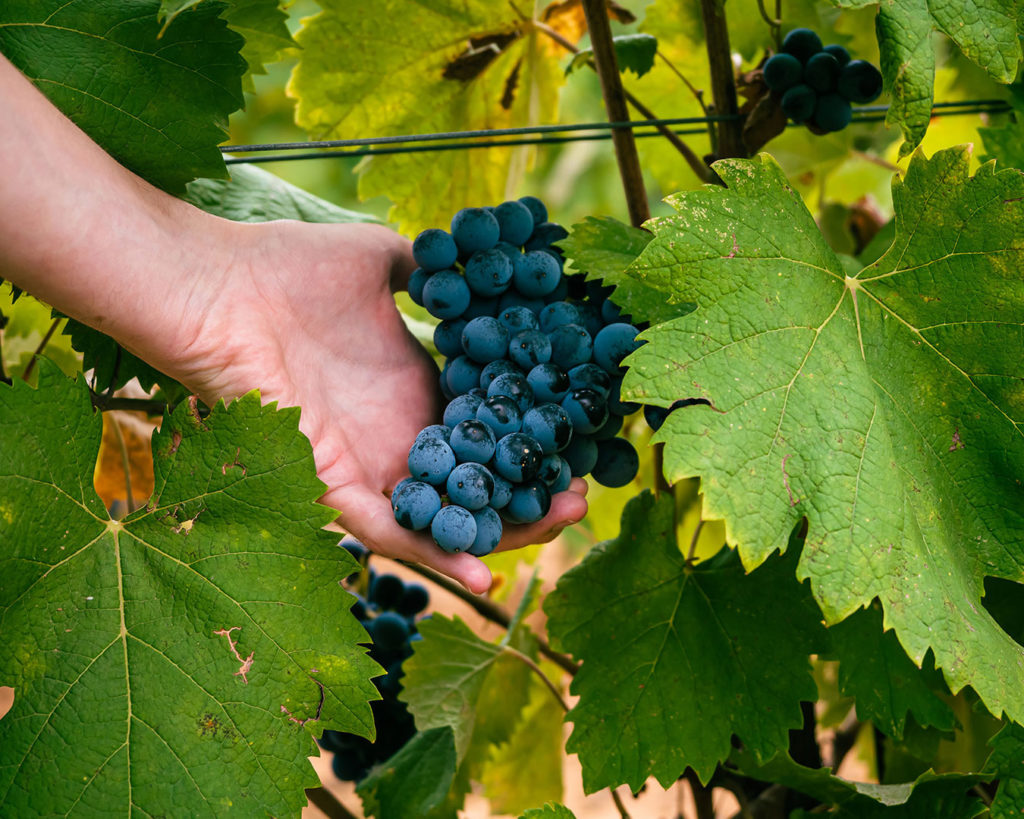 Harvests started on September:
White Grenache & Vermentino : 6 September
Syrah : 16 September
Black Grenache: 26 September
Mourvedre : 3 October
The grapes from this 2019 harvest, especially the Syrahs, are small in size, with a remarkable concentration of tannins and a good level of acidity. Grenache and Mourvedre, which have benefited from the rain, offer more juice.
The result is opulent, generous reds with intense colour and remarkably well-balanced ripe tannins.
At the end of a difficult year, wines of great delicacy
What a contrast with the previous year! 2018 began with a poor autumn, which led to fears of a significant water deficit from which the vines could have suffered. Fortunately, rainfall returned in January. The spring started with rather cool temperatures and continued with continuous rainfall until May, leading to a high sanitary pressure that was very well controlled at the Château.
The summer was quite different, hot from mid-June, very hot from July to September with a week-long heat wave in mid-July.
The harvest therefore benefited from sunny weather.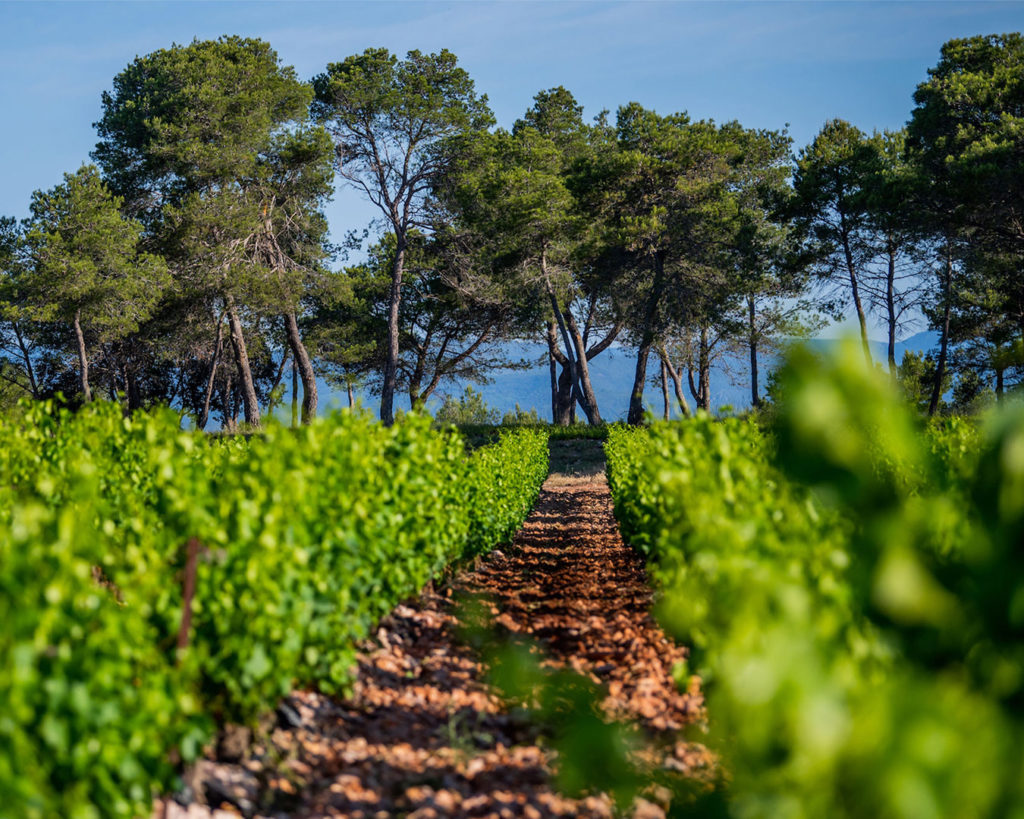 In 2018, the harvest began on a classic date:
Syrah: 11 September
Black Grenache: 15 September
Mourvedre: 25 September
It benefited from cool nights to preserve the integrity and aromas of the grapes.
Less tannic than the 2017s, the 2018 reds seduce with their suppleness, beautiful maturity and balance. They are delicate, aromatic wines that can be enjoyed more quickly than their older brothers.
The rosés, harvested earlier, have a freshness that enhances their aromatic personality.
A vintage of great classicism
2017 was a year with the main characteristics of the Languedoc climate. The winter was mild and wet, ensuring that the soil was well recharged with water and budburst came early. Spring brought contrasting weather, with a return of the cold at the end of April, which fortunately spared the Château's vineyards. Summer was hot and dry, leading to drought conditions from 15 August onwards.
To complete the picture, the harvest took place in fine sunshine.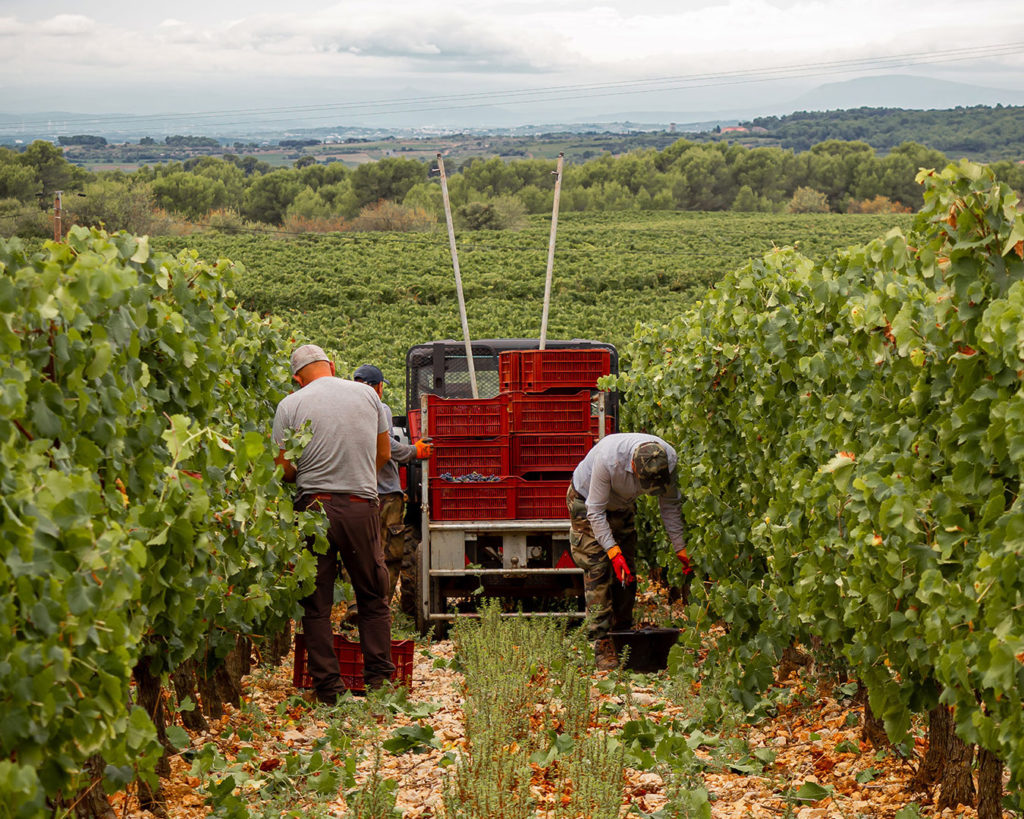 2017 was a fairly early year:
Syrah: 6 September
Black Grenache: 12 September
Mourvedre: 20 September
A year of low yields, 2017 produced red wines of great quality, with a fine tannic structure and remarkable aromatic expression.
All the characteristic aromas of Château Gilbert & Gaillard are present: fruit, of course, black olive, garrigue, pine and liquorice notes, with the mineral dimension that is the hallmark of great terroirs.
Perfect balance with outstanding concentration, fruit and freshness
After an autumn and winter with very little water, spring was promising with an early and homogeneous flowering due to dry weather and a light north wind. The summer was moderately hot but very dry from June onwards, which caused real concern. There were no storms on 15 August, but a heatwave at the beginning of September which put the vines under stress. Miraculously, two small rainy spells unblocked the situation between 10 and 15 September, allowing the grapes to mature in excellent conditions and to grow a little bigger.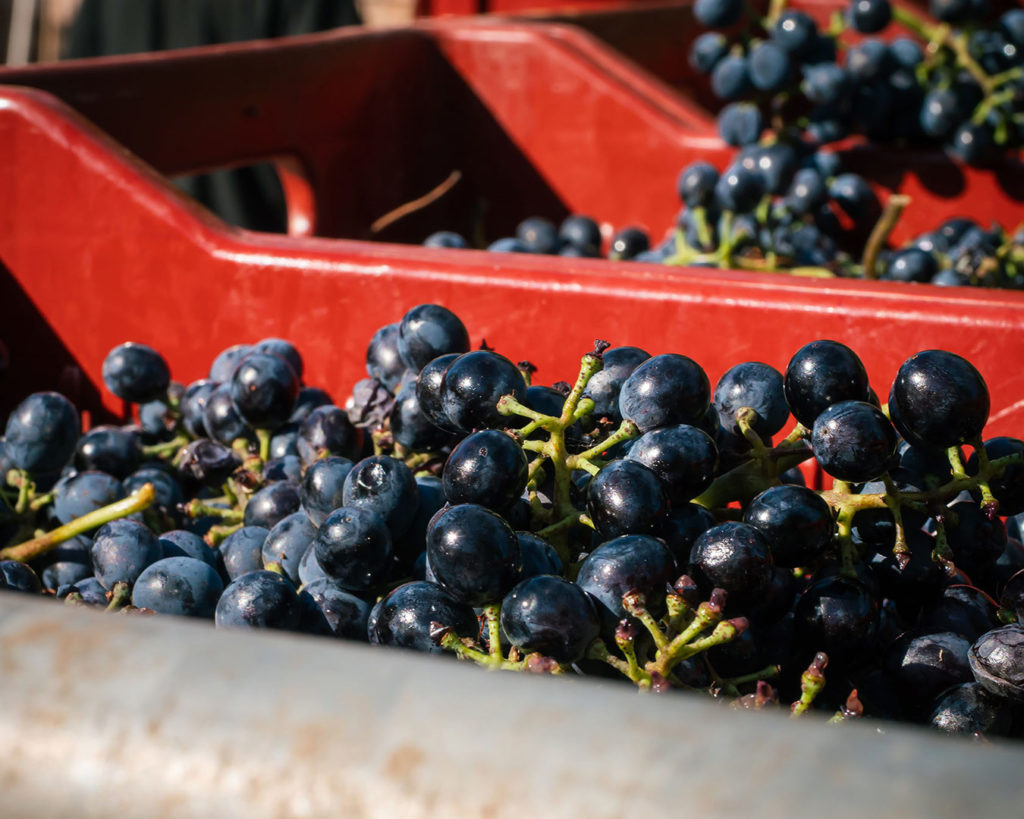 Harvests succeeded from September to October:
Syrah: 18 September
Black Grenache: 30 September
Mourvedre: 5 October
Small yields, good acidity, high concentration due to the small size of the berries. Fruit of extraordinary precision and freshness. Definitely a great vintage.
A beautiful baby, structured and generous, a vintage with great ageing potential
A rainy spring allowed the vines to break early and produce good vegetation. The summer was dry and hot, particularly in June and July. At the end of August a moderate rainy spell arrived at the right time, giving way to beautiful sunny periods at the beginning of September.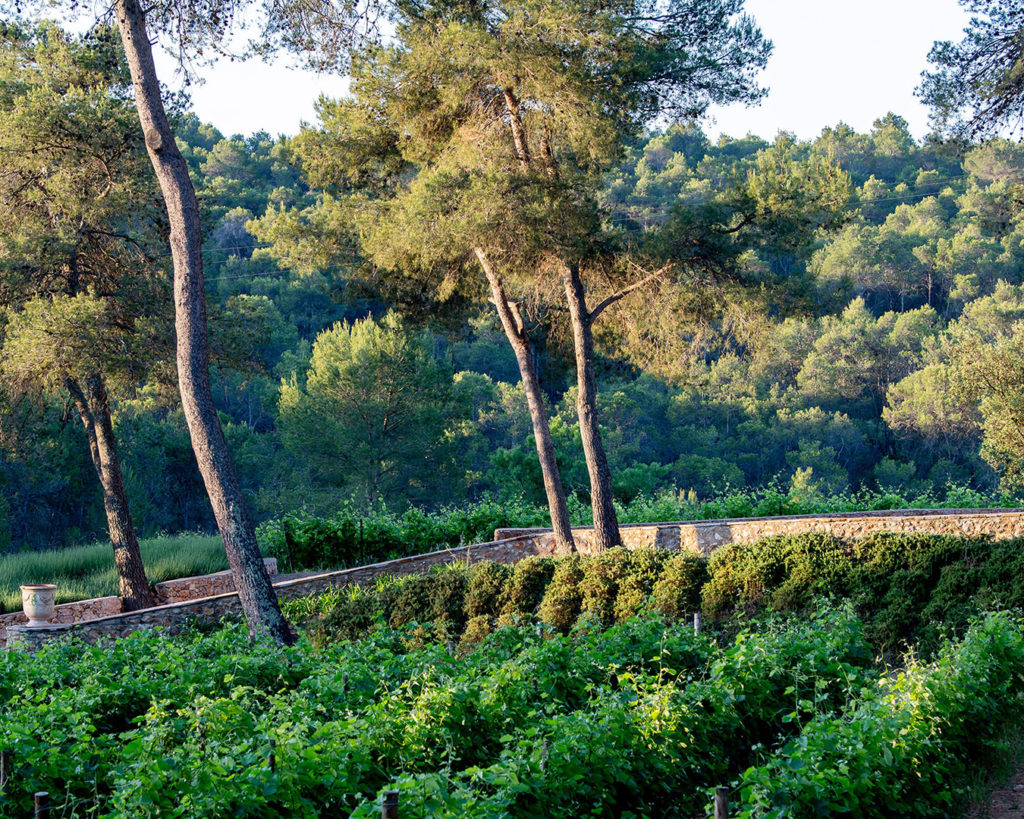 Harvests succeeded from September to October: 
Syrah & Black Grenache: from 15 to 30 September
Mourvedre : 8 October
Fresh and expressive Syrahs. Abundant and ripe Grenache. Concentrated Mourvèdres. The blends have produced wines that are ample, full-bodied, generous and at the same time very fragrant.
A well-balanced vintage to be enjoyed in its youth
Winter and spring: very low rainfall (about -50%) after an autumn with less water than average. Very mild or even hot temperatures favoured flowering 15 days earlier than normal.
The summer brought a pleasant surprise with temperatures that were not excessive and rainfall that was normal in quantity and effective because it was split up. This allows it to be available for the vines, which can thus avoid water stress.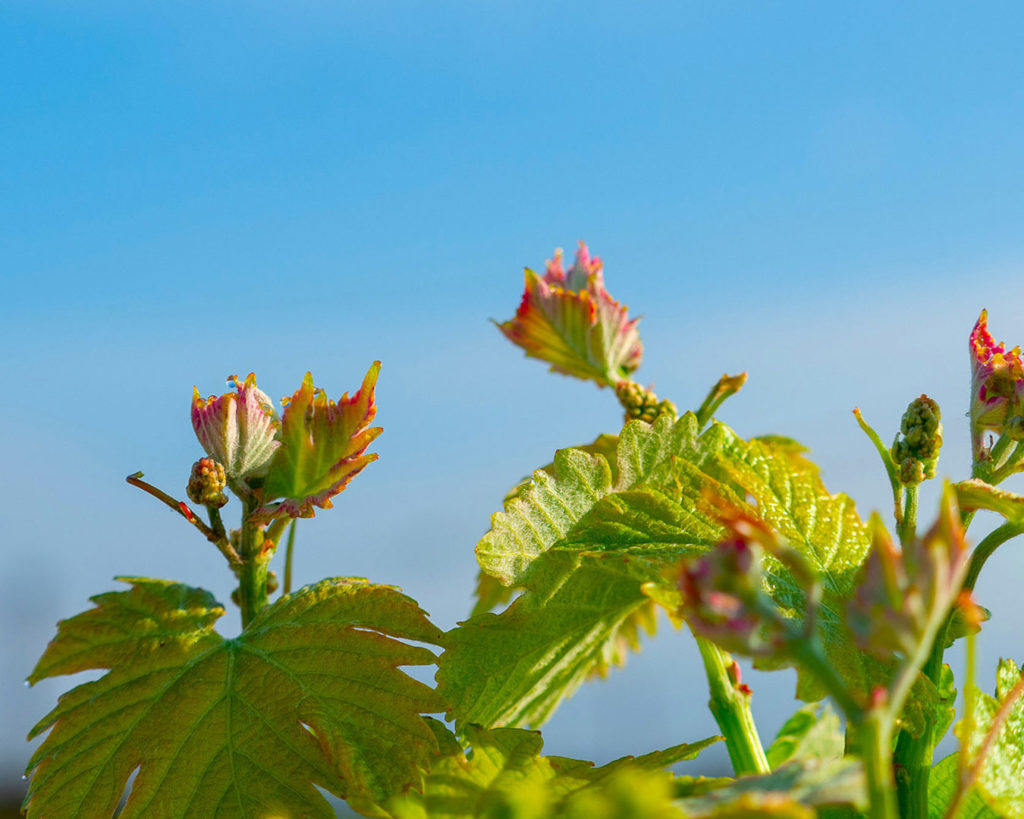 The beginning of September was hot and dry, a very beneficial factor for the ripening of the grapes, with, as in August, cool nights, a very favourable parameter for the aromatic expression of the juice. Saint-Chinian avoided the rains of the second half of September which hit the east of the Languedoc. We were thus able to harvest the grapes in optimal conditions.
Start on 15 September for the Syrah. The Mourvedre ends on 10 October.
The Syrahs have had small yields but are very fragrant and concentrated. The Grenache, which produced more, is fresher and brings a nice balance. The Mourvèdre has a lot of depth with a chocolate side. 2014 is atypical if you take it variety by variety. But the final blend gives a concentrated and very balanced style, which came together very quickly with beautiful expressions.
A fine vintage, full of freshness, the elegance of a late year
One of the wettest (especially March) and coolest (especially May) springs in 20 years, which led to a 3-week delay in flowering compared to normal. July and August did not allow us to make up for this delay, but a magnificent month of September, dry and windy, allowed us to complete the ripening process while maintaining a very good sanitary state.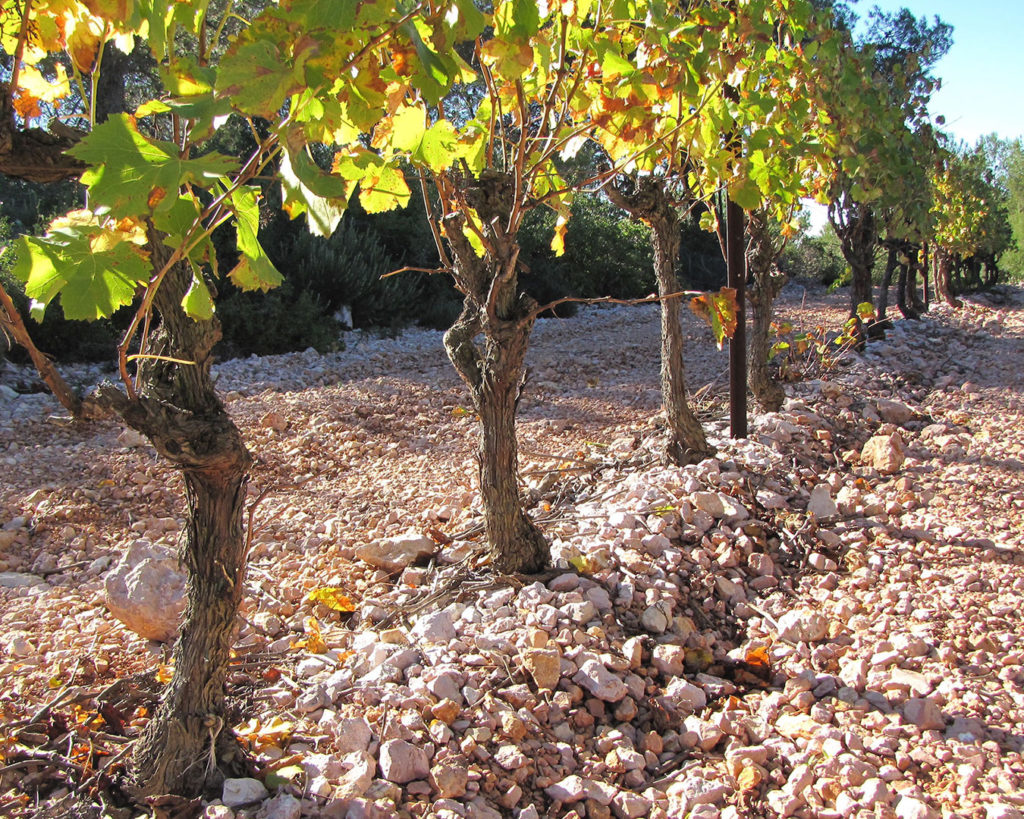 Start on 26 September for the Syrah. The Mourvedre ends on 25 October.
Beautiful tension, aromas of fresh fruit, spices and garrigue. Lots of finesse and freshness. Very elegant vintage.